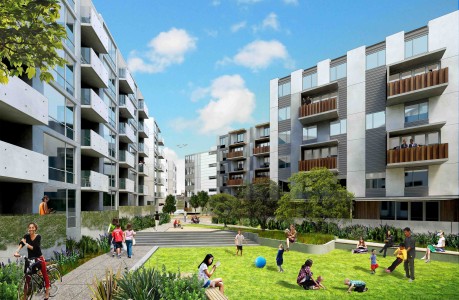 While the majority of Australians still live in houses, the trend toward apartment living is growing thanks to a growing population of downsizers and the appeal of urban living.
Undoubtedly there are cost advantages of buying an apartment over a house. For example, the same money that will buy an older house will often buy a brand new apartment. But leaving the cost factor aside, apartments are not for everyone.
Before deciding in favour of a unit, you may want to consider the highs and lows of apartment living:
High
With no lawns, no fences to repair, and no gutters to clean, apartments offer the ideal living arrangements for anyone who enjoys a full social life. Even in the event of internal maintenance issue, you can often call upon the strata appointed handyman to fix a problem in a unit.
Low
There's no escape from noisy neighbours. Despite vast improvement in sound insulation technology, sound seepage through walls, ceilings or floors can present an ongoing irritant. Or, if you're a nocturnal neighbour, you may be the pest!
High
With more and more employment being focused in the CBD of cities, apartments offer unparalleled convenience for city workers, not only to work, but to so many other city-based amenities.
Low
For those with a proclivity for renovation, apartment living will hamper your creativity when it comes to exterior design. You may need to be satisfied with minor tinkering on the balcony and internal improvements. Gardeners who enjoy growing some of their own food, may need to be satisfied with herbs and cherry tomatoes on the balcony.
High
Many apartment blocks offer onsite facilities that are only available in more expensive homes. Swimming pools, spa, tennis courts, barbecue facilities, saunas and roof top terraces are often available, although shared with many other tenants and their visitors. And how many homes come with an on-site manager?
Low
For young couples who purchase a unit early in their relationship, units present no opportunity to extend for a growing family.
High
If you do choose to renovate a unit internally – whether to increase the value of the property or for your own taste and enjoyment – you can typically achieve much more on a smaller budget than renovating a house.
High or low? It's a matter of perspective
When you purchase an apartment or unit, you are essentially buying "air space". That's because the walls, ceilings, floors, bricks and mortar are owned by the collective of owners, which depending on the relevant state laws, is referred to as owners corporation, body corporate, strata company or community association.
As an apartment owner, you inherit the right to participate in this community of fellow owners, who together take on the responsibility of managing the overall property.
Whether you see this as a "high" or a "low" is a matter of perspective. Many people who own homes, love the freedom of making individual decisions regarding their property. Some unit owners enjoy being part of a community of owners. It's all about preference and perspective.
On current trends, more and more flats, units and townhouses are set to become available, particularly in city areas. If you do decide that an apartment is the right choice for you, your next step is to understand what due diligence you should perform before buying.
Looking for a unit, apartment or townhouse? You can browse hundreds of listings in your area here.